Hello everyone, as mentioned in my second update, I have finished school for a few months and will therefore have more time to blog!
I have decided to stick to a schedule to ensure that I am creating interesting content on a regular basis. That being said, I will be uploading a new post every Monday & Thursday throughout the summer months starting with this post.
Enough with the chatter, lets' get into this month's (and last month's) wrap up!
May
In May, I was able to read a total of 5 books, the first being;
Boo by Neil Smith
Boo is Neil Smith's second book, his first being Bang Crunch which I have yet to drive into. This book was unlike anything I have ever read. The story line was original, and at sometimes funny despite the dark plot. Overall, this novel was a great read leaving me wanting more. I cannot wait to see what Neil Smith writes next!
Review: Check out my full review of Boo here.
We Are All Made of Molecules by Susin Nielsen
This novel is intended for a middle school audience, but I thoroughly enjoyed it! This novel follows our main character Stewart who is a boy wonder. Not only is Steward much smarter than most kids his age, but he is known for his sense of humor. The thing is Stewart does not mean to be funny, people think he is joking when he is really just eccentric. He named his cat Schrodinger for starters.
Review: Overall this novel was a great read, with a good lesson learned at the end. It was interesting to see how much Stewart was able to grow throughout the novel. For the full synopsis, check out my full review here.
The Knockoff by Lucy Sykes & Jo Piazza
This novel follows the story of a fashion editor named Imogen Tate of Glossy magazine. After taking a leave of absence, Imogen returns to find her prize and possession (a.k.a her magazine) has been turned into an app. Imogen is shocked that her boss would allow her former assistant to turn the magazine she has worked on for years into an app. Furthermore, Eve prides herself on her technological abilities, where as Imogen can barely turn on the TV.  Imogen is forced to chose between working at Glossy and her barely recognizable magazine, or quit and try to make a name for herself somewhere else.
Review: Overall, I found this book to be a bit light, and I have to admit that this novel was not as intriguing as I thought it would be. If you enjoyed The Devil Wears Prada, you may enjoy this novel with its addition of an online magazine. Here is my full review.
The Girl on the Train by Paula Hawkins
The Girl on the Train follows out main character Rachel who has recently been divorced from her husband Tom. Tom left her for another woman named Anna. As a result, Rachel has started to drink heavily to dull the pain. Everyday, Rachel rides the same train, stops at the same signal, and sees the same people. In fact she has even decided to give the couple she sees everyday names. Rachel calls them Jess and Jason. Everything seemed perfect for the couple until one day Rachel notices a pile of clothes abandoned by the train tracks, and Jess has gone missing.
Rachel befriends Jess' husband whose real name is Scott, in the hope of finding Jess (aka Megan). This story will take you on a suspenseful journey to find out what really happened to Megan that dreadful night.
Review: Overall I enjoyed this novel and would recommend it to those that have read and enjoyed Gone Girl by Gillian Flynn. Both of these novels have a similar psychological thriller feels that are fascinating to read. I would give this novel 3.5 out of 5 tea mugs.
May's Classics Challenge Pick: The Horse and His Boy by C.S. Lewis
The Horse and His Boy was this months Classics Challenge pick. If you are new to this blog and are not sure what the Classics Challenge is, check out the post explaining it here.
The Horse and His Boy is the third book in The Chronicles of Narnia series. This novel follows two runaway children both from very different economic classes, and the story of how they work together to achieve one common goal. Also, there are talking horses in this novel, which is very cool. Overall, I enjoyed this novel and look forward to reading the next book in the series-Prince Caspian.
Review: This novel was well written and had an interesting plot line. The two children who escape their old lives are forced to protect Narnia in the hopes of it not being overtaken. A battle pursues and Narnia is in danger of being conquered. I would give this novel, 3.5 out of 5 tea mugs.
June
June was not a very successful reading month…
The first book I read in June was;
June's Classics Challenge Pick: The Alchemist by

Paulo Coelho
This modern classic follows a young man named Santiago Shepherd who used to be a Shepard, but abandons his dream of being a Shepard in Andalusia, Spain in the hopes of finding treasure in the Pyramids in Egypt. Along the way, Santigo faces numerous hardships such as the time he was robbed, or another time he almost lost his life to a group of war men. It is at that point that Santiago begins to question if he made the correct choice, when he meets an Alchemist who helps him see the world for what it truly is. This is a story about life lessons, and an insight into life. It is the journey that is important, not the destination.
Review: Overall, I found this novel to be different than any book I have read before, but I still enjoyed it quite a bit. This novel was inspirational, and eye opening to the possibilities the world has to offer, if you are willing to notice them. I would give this book 4 out of 5 tea mugs.
Finding Audrey

by Sophie Kinsella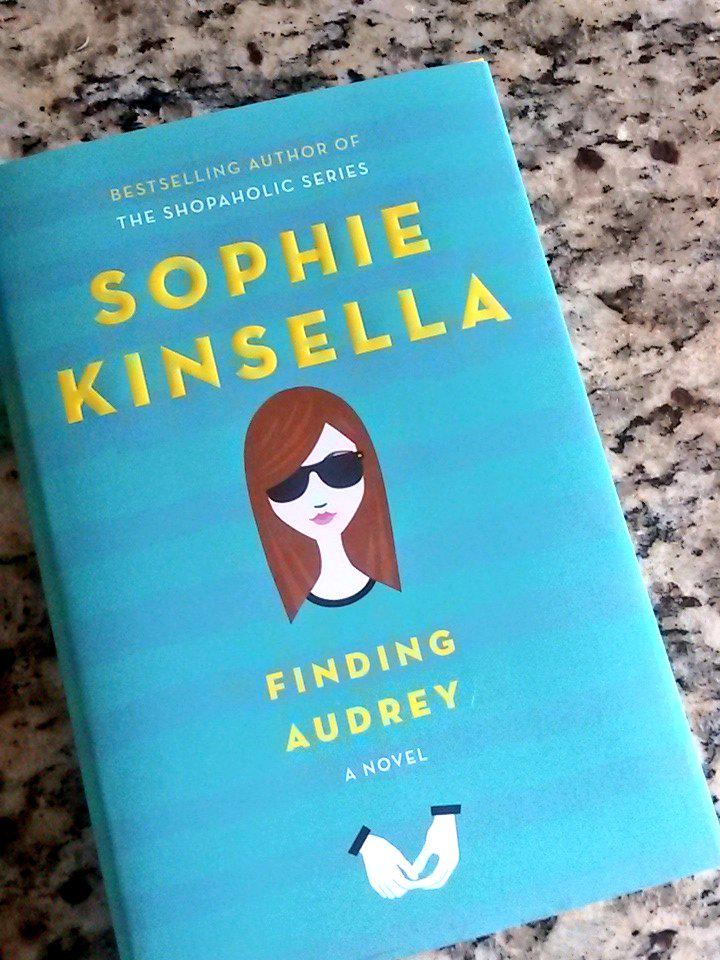 Finding Audrey is a story following a fourteen year old girl named Audrey who suffers from an anxiety disorder. Ever since the terrible incident occurred at school,  Audrey has been left feeling like a failure because of her anxious compulsions that result in her being unable to leave the house, or take off her sunglasses around strangers. Dr. Sarah, Audrey's psychologist has been helping her make progress, but it has been slow. Audrey fears that she will never get back to normal until one day she meets this boy named Linus…
Review:  Stay tuned for the full review that will be posted on Thursday July 2nd!
I hope you enjoyed this post! What did you read in May & June? What do you plan on reading this month? If you enjoyed this post please feel free to share it with a friend, and give it a like.
Until next time,
Emma
P.S. Stay Tuned: for my review of Sophie Kinsella's latest novel Finding Audrey, that will be up on Thursday!