On this lovely Monday morning, I thought it would be nice to start the week off with a fun tag. I have not done a tag on this blog before, but I think that gives me all the more reason to start now!
This tag is called the summer book tag, and it was created by Misskaelyn on Youtube. I will link the original video here.
That should suffice for an introduction, without further ado, let's jump on in!
What book cover makes you think of summer?
Circling the Sun by Paula McLain
I have yet to read this book, but it is at the top of the list! It will be published on July 28th, and I am excited to dive in and give it a read. The cover and end papers of this book are beautiful. If you are in a book store in the near future, be sure to look inside.
What book has brightened your day?
A Robot In The Garden by Deborah Install
This book was a lovely story following a man named Ben and the troubles he faces after finding a robot in his garden. This was such a lovely read! See my full review here.
Find a book cover with Yellow on it.
The Mountain Story by Lori Lansens
I would say this book has been one of the most talked about books on this blog for one simple reason; I loved it! I had previously read The Girls by Lori Lansens for a school project, and enjoyed it, but after having reading The Mountain Story I would have to say that it is one of her best novels! I have a full review here.
What is your favorite summer beach read?
Finding Audrey by Sophie Kinsella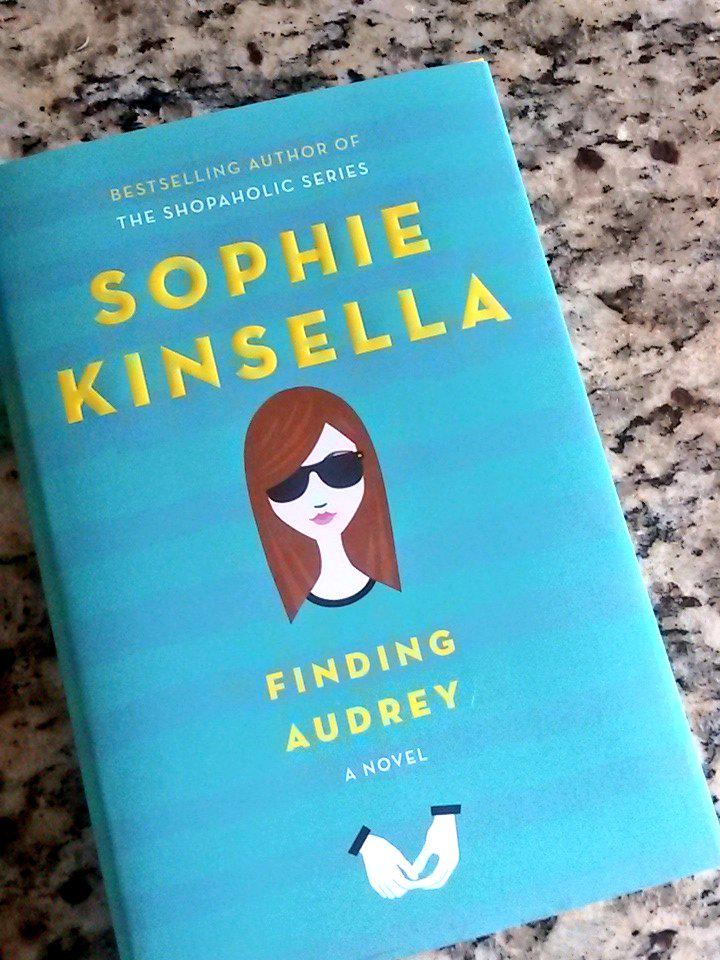 Finding Audrey is Sophie Kinsella's first Young Adult novel, and let me tell you, it was great! This story follows a girl named Audrey who suffers from an anxiety disorder after a traumatic event occurs at school. She is unable to leave her house afterwards and is forced to wear sunglasses while talking to anyone outside her family. Audrey's future seems uncertain until a boy named Linus comes along. See my full review here.
What action book had you running for the ice cream man?
Alive by Scott Sigler
A girl awakes to find herself in a coffin with no memory of her name, her parents, her place of birth or how she got there. After much struggle she is able to free herself from her coffin, and discovers that she is surrounded by other coffins. This novel is an action packed, and a great book to read this summer! Stay tuned for my review this Thursday.
(Sunburn) What book has left you with a bad and/or painful ending?
Me Before You by Jojo Moyes
Is it fate when two people meet, or does everything happen for a reason? Me Before You is a heart wrenching tale, but a good story that talks about difficult situations, and people's opinions on the matter. I loved this novel because it discussed a difficult topic, but I will warn you that the ending is painful.
(Sunset) What book gave you the happiest feelings when it ended?
The Alchemist by Paulo Coelho
A story that takes you on an adventure, and teaches you that life isn't about the destination, it's about the journey. A great novel for those that might take life a little too seriously.
What book cover reminds you of a sunset?
Go Set A Watchman by Harper Lee
Go Set A Watchman has been all the rage recently, as it has been more than 50 years since Harper Lee last released a novel. I have not yet started this book, but I am excited to pick it up! I even included it in my  5 books you should read next post!
What is one book or series you hope to read this summer?
Armada by Ernest Cline
I have yet to read Ready Player One (also by Ernest Cline), but I plan on reading Armada, his latest novel at some point this summer! I expect it too be a good read, especially at the cottage.
I hope you enjoyed this Monday morning post, and the first every tag here on Fiction Depictions. Please share, pin, tweet or email this post to a friend. Also, I tag all of you! Feel free to leave your answers in the comments.
P.S. Fiction Depictions has a NEW Facebook page! Check it out here, and make my day by giving it a liking it. 🙂
Until next time,
Emma